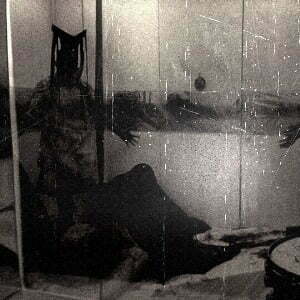 Summerhall
27 & 29 – 30 November 2013
Review by Jen McGregor
The opening image of Invokation is an arresting one. A large black pentagram is marked out on the floor, inhabited by two strange figures, one masked like a Venetian carnival figure and the other shrouded in black lace. A doom-laden soundscape heralds the beginning of some kind of black mass.
Unfortunately, any atmosphere built up in the first few moments is quickly squandered. The production clearly wants to be visceral and challenging, but it tries to achieve this by means of hackneyed images that have long since lost their power to shock.
The Lady Macbeth figure – it is unclear whether she is meant to be the fiendlike queen herself, a witch representing her for ritual purposes or something else entirely – writhes, jerks and simulates sex and childbirth on a table while yelling a few of Shakespeare's lines. She slaps herself repeatedly in the abdomen, screaming "I see Hell in art, I see art in Hell" over and over. The figure could be Lady Macbeth or any female character who has ever been reduced to a crudely-drawn, hysterical sex object.
Black Sun Drum Korps, led by Drum Major Russell MacEwan, plays along with the recorded sound. The music starts out with promising intensity, but it is so unvaried that it quickly becomes monotonous. The combination of doom metal and Macbeth seems rife with possibilities, but the score lacks any light and shade. Even within doom metal, surely there are varying shades of doom?
Although the performers deliver their lines into microphones, the sound is poorly mixed and their diction inadequate, so it is impossible to understand much of what they are saying. Since their delivery is uniformly flat, it is also impossible to guess at what is meant to be going on based on the performances. Every one of the performers looks as if they would rather be elsewhere (particularly the figure shrouded in black lace, who had brought along his smartphone and tablet to keep him amused).
After an hour of directionless noise, twitching and flashing lights, the show comes to an abrupt halt. It is so inconclusive that even the masked Venetian figure does not seem to be certain that it is over, since they are left to stand around in the dark for some minutes before finally shuffling off, tripping over cables as they go. Despite its rich source material, Invokation of Lady Macbeth never musters enough substance to feel like anything more than an ill-conceived drama school exercise.
Running Time 1hr
Wed 27, Fri 29 – Sat 30 November 2013
Summerhall, 1 Summerhall, Edinburgh, EH9 1QH
Tickets and further details: www.summerhall.co.uk

ENDS